specialised group of snow cyclists

We are riders of road racing bikes living in the island called Hokkaido. Hokkaido is the northernmost island of Japan. The Sea of Japan side of the archipelago is worldwide known as region where it snows a lot. Hokkaido doesn't make an exception. The Sea of Japan side of Hokkaido has a lot of snow as well and the temperature is lower there in

comparison with the mainland of Japan: Honshu. Thanks to these meteorological conditions, you have abundant fresh powder snow there. Hokkaido has worldwide known skiing resorts like Niseko, Furano, Kiroro etc. But skiing is not the only option for enjoying the winter of Hokkaido. This environment is extremely suitable for cycling.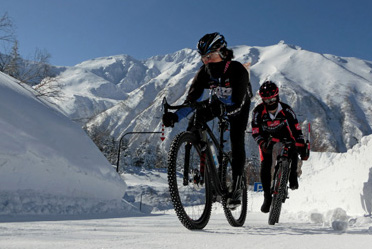 Cycling in the snow is not very popular sport around the world and many of you think it's crazy. But no. You can go on bikes safely and comfortably with suitable equipment. We ride bikes so called snow road racing bikes. The snow road racing bike is a MTB (mountain bike) equipped with studded tires, road handlebar and bright tail lamps to be recognised by car drivers even in low visibility conditions caused by blizzard.

You wouldn't feel cold with suitable cloths and you would avoid most of accidents using good studded tires. Many think you skid easily on snow or ice. However, in the reality, you have more traction on snow than on asphalt if you equip your bike with good studded tires and you displace your centre of gravity suitably.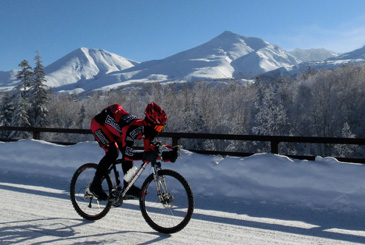 We have more than 20 years of experience in this area. We ride bikes on snow as training for road races. We experienced many different meteorological conditions:
zero visibility condition, temperature of minus 30 degrees Celsius and so on. We overcame many difficulties one by one and acquired the know-how to ride on snow safely and comfortably. To learn our know-how, please refer to our old side: cycling training on snow.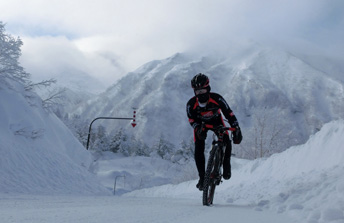 On this site, we are going to show you our training scenes with a lot of pictures and videos

on the page training reports. The purpose of this site is to show that you can ride bikes on snow normally as if you ride on asphalt in summer and expand the knowledge of snow biking (ice biking) around the world. Our future dream is to holt stage races on snow in Hokkaido.